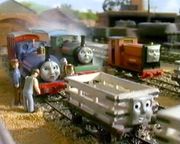 Trucks - UK/Rusty Helps Peter Sam - US is a episode in Season 4.
Gordon tells Sir Handel that if he was sick he couldn't shunt trucks, so Sir Handel pretends to be sick so, Peter Sam does his work but since the trucks don't like him they think Peter Sam is Sir Handel and bang him hard. After that Peter Sam's Boiler was banged and Funnel cracked. Peter Sam was rescued by Rusty but, was in pain. Till he was fixed Sir Handel was forced to do Peter Sam's work.
In the first shot Rheneas appears, but he is supposed to be at the works.
When Harold talks to Rusty his string that holds him is possile to see.
How could the trucks not see properly? Sir Handel and Peter Sam both have vibrant colours.
On the back of "Thomas' Trackside Tunes" this episode is said to have never been released on video; but it appeared on the "Rusty to the Rescue" VHS. The same VHS shows the British title and then credits George Carlin as the narrator.